Beauty Home » All Beauty Makeups » Facial - Beauty Make Up
1 | 2 | 3 | 4 | 5
Facial - Beauty Make Up
A facial is a procedure, involving a variety of skin treatments, including: steam, exfoliation, extraction, creams, lotions, facial masks, peels, and massage. It is normally performed in a beauty salon but it is also a common spa treatment.
To Get Rid Of Pimples Beauty Makeup - Facial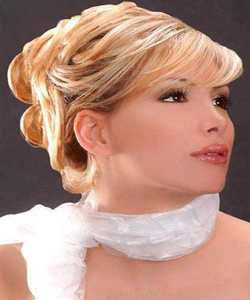 You Will Need:

1. Sandalwood
2. Red Sandalwood
3. Clove
4. Kasthuri Manjal
5. Oil
6. Water
7. Cucumber Slice
8. Eyecubes

How to Apply?

Take Sandalwood, Red sandalwood, Kasthuri Manjal and Clove. Make it in a form of powder, mix all powders with ordinary oil and Water. Now apply that mixture on your face and massage for 10-15 min (leaving your eyes). Rest for 10 minutes, after massage and then wipe it with soft clothes or cotton. After that, take a slice of cucumber and keep it in the ice cubes for a while. Place that icy cucumber on your face for 10 min and then wipeout your face and eyes. At last wash it with Chill water. Now you can feel some changes like soft, bright in your face. Apply this facial once in 3 days a week for better results.

Note:

The oil quantity should be less than the water and your mixture paste should not be so watery.

---
Things To Done To Get Dark Black Hair

You Will Need:

1. Aloe Vera
2. Hibiscus Flower
3. Normal Hair Oil
4. Normal Shampoo

How to Apply?

Take Aloe Vera Gel, Hibiscus Flower and mix all with normal hair oil. Apply before taking hair wash and wait for at least 2 hours after applying. Now wash your hair with normal shampoo and wait for 5 hours to get awesome effect. Use this twice a week for better results result and to get attractive dark black hair.

---
Home Remedies For Oily Skin

You Will Need:
1.One Egg White
2.Lemon Juice
3. Warm Water

How to Apply?

Make a homemade mask by adding one egg white and a tea spoon of lemon juice. Apply this mask on your face and rinse with warm water after 20 minutes. Now wash your face. Apply this twice a week for better result.

---
Get Rid Of Blackheads

You Will Need:
1.Honey
2.Cinnamon Powder
3. Warm Water

How to Apply?

Take a bowl and make a paste by adding 3 tablespoons of honey and 1 teaspoon of cinnamon powder. Apply this paste on the blackheads area before going to bed and wash it next morning with warm water. Repeating it for two to three weeks will remove your blackheads.

---
Manicure

You Will Need:

1. Acetone
2.Liquid soap or shampoo
3.Oil or cream
4.Warm water
5.Antiseptic lotion
6.Nail polish
7.Orange stick
8.Soft Towel



How to Do?

Remove the old polish then shape your nail with nail filer. Now dip and soak your hands in luke warm water with liquid soap or shampoo for some time. Then wash your hand with cold water and wipe with soft towel. Clean your nails using orange stick and cotton dipped in antiseptic lotion. Now apply some cream and push the cuticle back gently using cuticle pusher then massage your hands for five minutes. Now you can apply nail polish and allow drying.
---